Judging panel 2021
Neil Almond, Insurable Risk Manager, Tesco
Iain Hovell, Director of Insurance, IHG
Jim Sherwood, Chairman, Global Insurance Law Connect
Neil Timberlake Group Insurance Director, Land Securities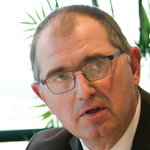 Neil Almond, Insurable Risk Manager, Tesco
Neil Almond is a member of the Tesco insurable risk team, specializing in cyber and casualty insurance and the analysis and forecasting of claims data. He has over 25 years' experience across the automotive engineering, telecommunications and retail sectors.
Iain Hovell, Director of Insurance, IHG
Iain is Director of Insurance within the Global Risk Management Team of IHG plc. IHG is one of the world's leading hotel companies, and Iain's core activities involve insurance placement, contractual management, claim oversight and risk analytics. Prior to joining IHG, Iain worked at Rentokil Initial plc for 10 years as Group Risk Manager covering Risk and Insurance related activities.
Jim Sherwood, Chairman, Global Insurance Law Connect
Jim Sherwood is the Chairman of Global Insurance Law Connect, a network of specialist insurance law firms. Jim is also an experienced lawyer, with over 25 years' experience, particularly focusing on product liability and recall. Jim established the product liability and recall team at BLM, acting for insurers, suppliers and manufacturers.
Neil Timberlake, Group Insurance Director, Land Securities
Neil Timberlake started his career as a trainee underwriter for Equity & Law Life Assurance Society in 1980. He moved to the Allstate Insurance Company in 1981as an underwriter and has also held positions at Jardine Insurance Brokers, Sedgwick Insurance and Whitbread plc. He became group risk manager for Le Meridien Hotels & Resorts in 2001, before joining Threadneedle as a property risk manager in January 2005. Neil spent10 years at Threadneedle during which time he created innovative risk management monitoring solutions for Property investment funds and revolutionised the organisation's attitude to risk and insurance. In July 2015 he moved to Land Securities as Group Insurance Director with responsibility for the insurance of all properties within the Land Securities portfolio and risk financing of the group as a whole, together with co-ordination of risk management activity within the estate.